At 48" in height, the Paul A. Schmitt CRV-480 is our top-of-the-line full size upright piano with endurance and musicality normally only found in more expensive brands.
Available in Ebony Polish finish.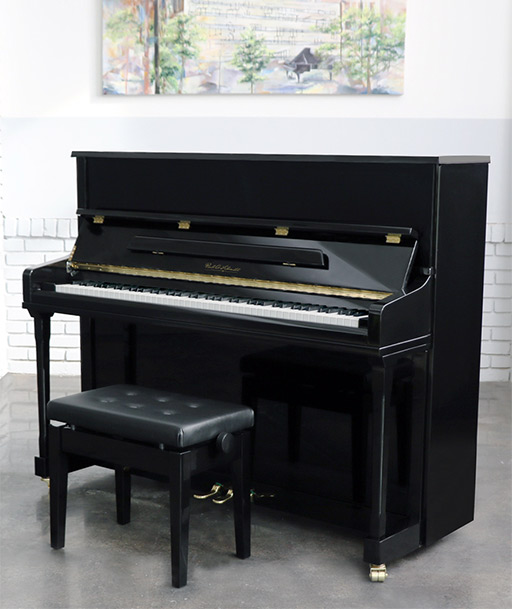 Features & Technical Specs
If during the 10-year warranty period, from the date of original purchase, your piano is found by Schmitt Music to have a defect in material or workmanship, Schmitt Music will repair such defect without charge for parts or labor.
Beech Beams / Spruce Back Posts: 5
Omnidirectional All Spruce (Siberian Spruce)
Soundboard Cut-Off Bar
Soundboard Area (Square Inches): 2089
Full length ribs extending into Rim/Liner
Maple Bridges - Horizontally laminated with Beech cap
Sand Cast Plate - Unique plate color with CNC finishing process
Blued Steel, Nickel Plated, Cut Thread Pins
Multi-Ply Hard Rock Maple/Beech Pin Block: 17-Ply
Hammers / Action / Pedals
Double Felted, T-Fastened Hammers
Action Parts: Hornbeam
Extruded Aluminum Action Rail
Middle Pedal: Practice
Cast Action Brackets: 3
Keys - Solid Spruce with Hardwood Plywood Key Buttons
Weighted and Balanced Action
German Roslau Piano Wire with hand wound Copper Bass Strings
#1 Bass String Length (Inches): 46.7"
Solid Brass Hardware
Matching Adjustable Bench
Please fill out the form below if you have any questions or would like more information.